[section_title heading="h2″ style="2″ text_align="center"]Marketing that Results in Higher Sales Prices[/section_title]
Our marketing ensures your property sells for the
highest price possible
.  The strategic system focuses on marketing to the
4 major sources today's buyers rely on to find a home
. We market more than most agents and in the right places. Reaching the most buyers, results in a higher sales price every time.

"94% of buyers use the internet to start their search for a home" according to NAR 2017 Home Buyers Report. Give your home the presence it deserves!
[section_title heading="h2″ style="2″ text_align="center"]Preparing Your Property[/section_title]
Before marketing, we must first prep the property to look it's very best and then capture this image. We accomplish this by completing the following tasks:

Property Review and Recommendations
Personal or Professional Staging
Professional Photography
Professional Video Tour

Example Professional Photography
Example Video Tour
[section_title heading="h2″ style="2″ text_align="center"]Online Marketing[/section_title]
MLS – The MLS or "Multiple Listing Service" is one of the major advantages of hiring a real estate agent to market your home. Your property photos, details and description will be syndicated to 1,000's of real estate websites on the internet. Not all agents take the time to complete the listing details thoroughly. Many agents fail to select the neighborhood tract, views, pool types and confirm the mapping location. When consumers search for bayfront homes, they may not see your home in the list.
Featured Listings – Your home is now all over the web… most agents stop there. We don't. Which of the real estate websites get the most traffic? We know… and we pay to have your property featured on these websites. Most agents will tell you they are on zillow and other sites, but it's usually just to capture the buyer leads, it's not paid advertising that promotes your property over other listings on the site.
Video Uploaded to YouTube and Facebook – We've sold homes to all cash buyers with quick closing based off of video alone. There is a reason our home video tours average over 1,000 views and reach international buyers. We go beyond uploading the video to actually configuring critical details, sharing socially and paid advertising.
Showcase Website – We will create a custom website, exclusively for your home, that showcases your property to buyers as well as appears prominently in search engine results. It's all about your property, not our company or the agent. Utilizing this site in all brochures and paid advertising drives buyers to a beautiful, clean site that is solely focused on highlighting your property. Example: www.1108westbay.com
Email Announcement – Our extensive database of buyers, investors, real estate agents, brokers and influencers (over 1,000 subscribers) will receive details about your property and open house information via emails on a consistent basis.
Social Media Announcements and Advertising – A powerful strategy that sends your property details to other real estate professionals, buyers, investors and the community. With over 3,000 fans and followers, it allows us to instantly inform the people that matter most about your property. Our social networking strategies gain an incredible amount of attention on your property, which results in selling your home faster.
Facebook | Google+ | LinkedIn | Pinterest | Twitter | YouTube
Paid Advertising: In addition to powerful SEO techniques that result in substantial amounts of organic traffic, we place specific targeted ads on websites and search engines that bring buyers directly to your listing. Buyers will continually see your property and be reminded of it whether they are on Facebook, YouTube, reading their email or searching the web for other information. We know exactly how to reach them.
[section_title heading="h2″ style="2″ text_align="center"]Mailing[/section_title]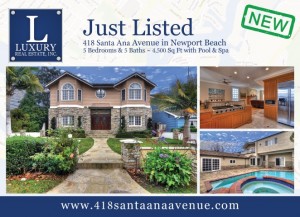 We send high quality property listing cards to 10 times the the number of households most listing agents reach. We market your listing to create the highest level of awareness in proven areas where buyers are likely to come from. Our print advertising is all about you and not us. We drive interest to your showcase website where they can view the professional photography and home video tour.
[section_title heading="h2″ style="2″ text_align="center"]Professional Networking[/section_title]
Professional networking is an incredibly valuable asset and will differ depending upon whom you choose to work with and represent you. We can assure you that our professional networking abilities are substantially vast and effective. We are members of the Newport Beach Association of Realtors, as well as a member of several associations in the surrounding area. Our extensive database of buyers, investors, real estate agents, brokers and influencers will receive details about your property and open house information via emails on a consistent basis.
[section_title heading="h2″ style="2″ text_align="center"]Property Brochures[/section_title]
A critical step that most agents miss… leaving the buyer with something to remember. After amazing marketing that results in showings, we must leave them with a "wow" they can take with them. We custom design property brochures of the highest quality. They are extra large on thick card stock with a premium gloss coating. They showcase the home and professional photography. They remind buyers of the most important amenities and invite them back to the showcase website to view all photography and the video tour. Most buyers look at several properties in a day. At the end of the day they are in a blur. Having the most impressive brochure in hand will again make your home stand out amongst the competition.
[section_title heading="h2″ style="2″ text_align="center"]What Others Are Saying[/section_title]
"I can not express how thankful I am for Steve's help. He was always very committed to helping me find my dream home and it sure did pay off. He is extremely hardworking, professional and personable and truly has become a great friend."

"Steve Roose was such an incredible agent to work with. He guided me through the process answering all of my questions and always being available. I would highly recommend him to anyone looking for an honest and trustworthy person to do business with."

"Steve is an excellent realtor. We listed our home for sale after we found our new home and had a small window of time to get the best offer we could. We quickly had a buyer in place due to Steve's marketing and connections and everything was ready to go. Our buyer dropped out last minute and within hours Steve had another buyer lined up with an even more attractive offer!! We didn't even have time to get stressed out! He worked tirelessly for us and we couldn't be happier. We admit we were very picky and high maintenance and he never even blinked. We have since recommended him to family and friends and have gotten great feedback from them as well."

"Lisa and I thoroughly enjoyed working with you to find our Newport Beach vacation property even though we live thousands of miles away! Steve's friendly and easy going manner made us comfortable even though we didn't know you at first. Your service was professional, expedient, and thorough. We look forward to working with you in the future."

"Nothing soothes the soul like a walk on the beach."

"All you need is a good dose of Vitamin SEA!"

"Sandy Toes... Sunkissed Nose"

"If you are lucky enough to live at the beach, you are lucky enough!"

"I followed my heart and it led me to the beach."

"I have never met a man with more integrity than STEVE ROOSE!! I have worked with him on several occasions. Buying, Selling and Renting... He has never let me down. His work ethic always exceeds my expectations. I will continue to use his services in the future and cannot recommend him enough!!!"
[section_title heading="h2″ style="2″ text_align="center"]Let's Connect[/section_title]
Call (949) 375-4430, email steve@ocluxuryrealestate.com Or complete the form below to introduce yourself and your property to us.